2007年3月まで、当スクールの全日制プログラムで学び、その後兵庫県にある芦屋インターナショナルスクールに編入したHaruちゃん、Satoちゃん姉妹から、この夏休みに家族でグアム旅行をした時の楽しい思い出のメールとSatoちゃんの写真が届きました。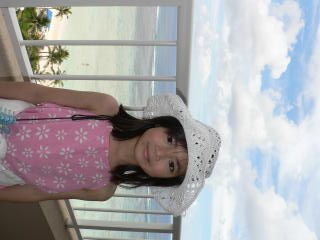 二人にとっては生まれて初めての海外旅行だったそうで、見るものすべてが新鮮できっと素晴らしい経験と思い出になったのではないでしょうか♪

To:Mr.Elwell

My family and my grandfather went to Guam.

We went for four days.

We stayed at Hyatt Regency.

The first day,I went to a giftshop.

I bought a sunglass and some keychains.

At night,I went to BBQ.

The second day,I went to a camp.

For dinner,I went to a magic show.

The third day,I went sightseeing.

The next morning,I came back to Japan.This was the first time to go to other country.
From:Haru
To:Mr.Elwell
This summer I went to Guam with my family and my grandfather.
The hottel that we went is Hyatt Regency.

In the first day I boght a white hat.

Next we went to another stor .

In there I booght a white shoes.

Next we went to a stor calld Micronecia Mall.

At there I road a merry go round.

And we did B.B.Q for dinner.

And at night we went to some stores.

In the second day I went to Camp Hyatt with Haru.

I made good friend with a girl.

She is twelve years old.

At dinner I went to Sand castle.

In that place we saw shows while eating.

The third day we went to aquarium.

We did some quiz.

The quize was all about fishes.

I made only two mistake.

Next we went to sight seeing.

We went to a place called Planet Hollywood for dinner.

And then we went in to the plane.
From:Sato
To:Mr.Elwell

In the plane,I was sitting with my grandfather.

My grandfather says "sleep"but I was not sleepy so I put the spotlight on and make a show by my doll.

At BBQ I ate some meat,vegetables and tuna.

I wear my hat at Guam,and I wear the shoes at the summer school and at shopping

but I did not wear the hat in Japan yet.

Because my hat mite flyaway by the wind.

I'm glad that I went to Komatsu befor Makoto goes back to maine.